Pistachio Risotto
Prepare to go nuts over this creamy, dreamy risotto dish. The pistachio flavor adds an element that's out of this world. Prove to your family that risotto isn't just for the professionals.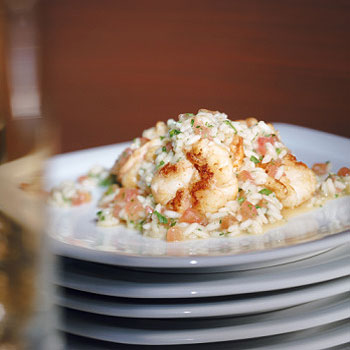 Ingredients
For 6 people
4

tablespoon(s)

butter

1

medium onion, chopped

1/10

cup(s)

saffron threads (1 tsp.)

2

cup(s)

Arborio rice

8

ounce(s)

dry vermouth

5

cup(s)

chicken stock (4-5 cups)

3

tablespoon(s)

shelled pistachio nuts

1

cup(s)

grated Parmesan cheese
Directions
Melt butter in a 10-inch skillet over medium heat. Add onion; sauté 5 minutes. Stir in saffron; cook 1 minute. Add rice; stir to coat with butter and onions. Add vermouth and 2 cups chicken stock. Simmer, covered, and add the remaining broth 1/2 cup at a time, until rice is tender. The entire cooking time is about 30 minutes. The rice should be bound lightly together with a little of the cooking liquid. Stir in pistachios and Parmesan and serve immediately.
Nutrition facts
Kcal: 462.24 kcal
Fibers (g): 1.99g
Sodium (mg): 787.61mg
Carbs: 55g
Fat: 14.01g
Saturated fat (g): 7.68g
Proteins: 13.05g