Potato-Lima Bean Medley
This palate-pleasing potato recipe belongs in the lima-light. Chock full of flavor, it's a healthy dish that won't sideline your diet.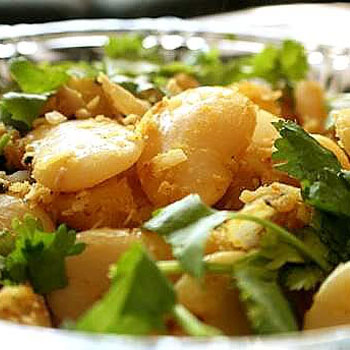 Ingredients
For 6 people
6

large potatoes

2

teaspoon(s)

canola oil

1

large onion, chopped

10

ounce(s)

package frozen baby lima beans, thawed

1

dash(es)

salt

1

dash(es)

freshly ground pepper

1

teaspoon(s)

Parsley

1/2

teaspoon(s)

Paprika
Directions
Bake or microwave potatoes in their skins until tender but still firm. When cool enough to handle, peel and cut potatoes into large cubes. Heat oil in an extra-wide skillet or stir-fry pan. Add onion and saute over medium heat for 10 minutes, stirring every 2 or 3 minutes. Stir in potatoes and lima beans and continue to saute for another 5 minutes or so, or until potatoes are golden and lima beans are tender. Season to taste with salt and pepper, then transfer to a serving dish. Sprinkle the top with parsley and paprika and serve.
Nutrition facts
Kcal: 352.16 kcal
Fibers (g): 9.88g
Sodium (mg): 62.8mg
Carbs: 74.62g
Fat: 1.95g
Saturated fat (g): 0.23g
Proteins: 10.58g