Turkey Chili
You think you've bean there, done that, but you haven't until you've tried this terrific turkey chili that's loaded with goodness. No doubt you'll veg out.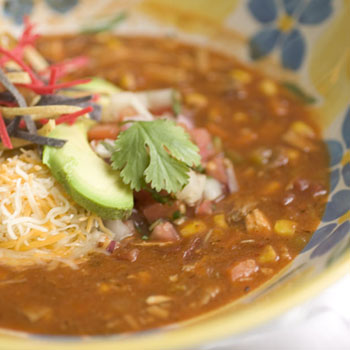 Ingredients
For 4 people
2

cup(s)

chopped zucchini

1

teaspoon(s)

olive oil

1

cup(s)

onion, chopped

2

cup(s)

celery, chopped

2

teaspoon(s)

fresh garlic, chopped

1

pound(s)

chopped cooked turkey

1 1/2

tablespoon(s)

chili powder

1

teaspoon(s)

cumin seed

2

cup(s)

diced canned tomatoes, no-salt-added variety

4

cup(s)

canned kidney beans, rinsed and drained

2

cup(s)

low sodium vegetable broth

1

teaspoon(s)

brown sugar
Directions
Brown onion and turkey in vegetable oil. Place all remaining ingredients, except yellow bell pepper and cheese, in a crock pot and mix well. Add browned onion and turkey. Cook on low for 8-10 hours. Twenty minutes before serving, add yellow bell pepper and some water, if necessary. Serve topped with grated cheddar cheese.
Nutrition facts
Kcal: 389.36 kcal
Fibers (g): 15.16g
Sodium (mg): 1012.4mg
Carbs: 52.14g
Fat: 8.48g
Saturated fat (g): 2.14g
Proteins: 25.77g