Upstream Pasta
Smoked salmon tossed in a tangy, creamy, Dijon mustard vinaigrette with garlic and green onions, served over a bed of egg noodles makes for a dish that's swimming in goodness. Your family will never know you whipped it up in under 30 minutes.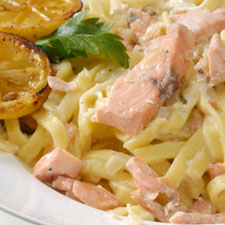 Ingredients
For 6 people
4

cup(s)

broad egg noodles or shell noodles

1

tablespoon(s)

butter or oil

2

tablespoon(s)

shallots, finely chopped or 1 clove garlic, crushed, finely chopped

8

ounce(s)

smoked salmon

4

whole green onions

1

cup(s)

sour cream

3

teaspoon(s)

Dijon mustard

1

dash(es)

white pepper, to taste
Directions
Cook the pasta. Drain but do not rinse. Meanwhile, heat the butter in a large frying pan. Add the shallots and saute for about 5 minutes. Meanwhile, cut the salmon into thin bite-size pieces and slice the green onions; set aside. Then, whisk the sour cream, Dijon and pepper into the sautéed shallots. Remove from the heat and immediately stir into the drained cooked pasta. Add the salmon and green onions and toss. Serve hot or as a cold pasta salad.
Nutrition facts
Kcal: 326.29 kcal
Fibers (g): 1.65g
Sodium (mg): 248.11mg
Carbs: 29.58g
Fat: 16.38g
Saturated fat (g): 7.07g
Proteins: 13.92g