Beans & Frankfurters
Franks and beans - it's what's for dinner. This culinary classic has stood the test of time. After decades, it is still as simple as they come. A one-pot wonder, franks and beans bowls over adults and kids alike.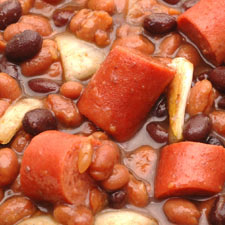 Ingredients
For 8 people
1/2

cup(s)

chopped onions

1/2

cup(s)

ketchup

1/4

cup(s)

molasses

2

tablespoon(s)

brown sugar

1

tablespoon(s)

mustard

1/2

teaspoon(s)

Worcestershire sauce

6

cup(s)

pork and beans in tomato sauce (about 40 oz.)

8

hot dogs
Directions
Combine onion, ketchup, molasses, brown sugar, mustard and Worcestershire sauce. Add beans and mix well. Place in 2-qt. casserole and bake at 300 degrees for 1 ½ hour. Lay hot dogs on beans and bake 30 minutes longer.

Ready in 2 hours
Nutrition facts
Kcal: 393.88 kcal
Fibers (g): 10.71g
Sodium (mg): 1205.58mg
Carbs: 50.9g
Fat: 13.97g
Saturated fat (g): 4.86g
Proteins: 15.85g