Blossom Sweet Potatoes
This dish packs some flower power. Sweet potatoes and pineapple get a boost from Chrysanthemum petals in this tasty and unique side dish.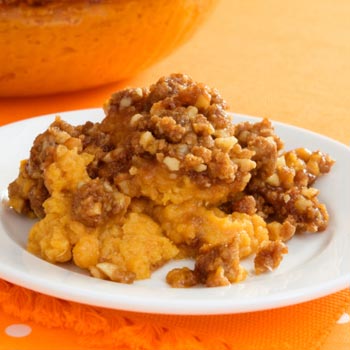 Ingredients
For 8 people
6

medium sweet potatoes, peeled and cubed

1/4

cup(s)

crushed pineapple, in juice

1/4

cup(s)

honey

3

tablespoon(s)

butter, melted

1/2

teaspoon(s)

grated lemon zest

4

ounce(s)

chrysanthemum petals
Directions
Preheat the oven to 350 degrees. Butter a 2 quart baking dish.
Place the sweet potatoes into a large pot, and fill with enough water to cover. Bring to a boil, and cook until tender, about 15 minutes. Drain.
Mash potatoes with pineapple, honey and butter using a whisk or electric mixer until smooth and creamy. Stir in the lemon zest and chrysanthemum petals. Transfer to the prepared baking dish.
Bake for 20 to 30 minutes in the preheated oven, until hot and fragrant.

Ready in 55 min
Nutrition facts
Kcal: 200.89 kcal
Fibers (g): 4.13g
Sodium (mg): 35.89mg
Carbs: 38.95g
Fat: 4.48g
Saturated fat (g): 2.97g
Proteins: 10.7g