Chinese Beef
This Asian-inspired dish has outstanding flavor and features soy sauce, sherry and plenty of garlic! One bite and you'll know exactly where the beef is. Serve with a steaming scoop of white rice.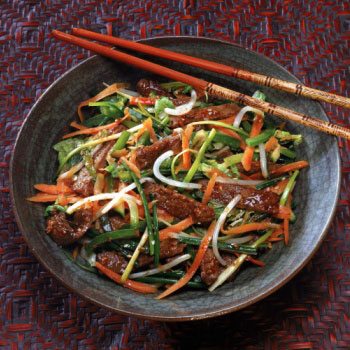 Ingredients
For 4 people
3

cloves garlic, finely chopped

32

floz

water

9

teaspoon(s)

sugar

16

tablespoon(s)

light soy sauce

16

tablespoon(s)

dark soy sauce

8

floz

dry sherry

1/8

floz

fresh squeezed lemon juice

4

slices ginger about 1 inch thick each, diced

16

ounce(s)

lean beef top round steak, trimmed of fat and cut into 1 inch cubes

2

tablespoon(s)

sesame oil

2

small boiling onions

1

cup(s)

fresh button mushrooms, halved

1

cup(s)

sweet red bell pepper, seeded, deribbed and cut into 1 inch squares

3

teaspoon(s)

green peppercorns, uncrushed
Directions
In a medium sized stainless steel pot mix garlic, water, sugar, soy sauces, Sherry, lemon juice and ginger and bring to a boil. Let cool, place in 4 quart round crock-pot and set aside.
In a large skillet on medium heat, add sesame oil and brown meat on all sides. Add meat to the crock-pot and Looing sauce. Add onions, mushrooms, Bell pepper and peppercorns. Cover and cook on low for 8-10 hours. Ladle on top of rice.

Ready in 10 hours
Nutrition facts
Kcal: 414.01 kcal
Fibers (g): 2.47g
Sodium (mg): 6917.23mg
Carbs: 26.19g
Fat: 9.75g
Saturated fat (g): 2.04g
Proteins: 37.17g