Healthy Potato Salad
Want a palate-pleasing potato salad that will have you seeing red? Made from small red potatoes, this side is big in flavor. Did we mention it has plenty of "appeal"?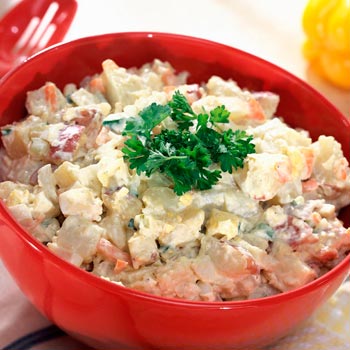 Ingredients
For 4 people
16

ounce(s)

small red Bliss potatoes

6

teaspoon(s)

grainy mustard

2

tablespoon(s)

red wine vinegar

1

tablespoon(s)

olive oil

1

dash(es)

salt, to taste

1

dash(es)

freshly ground black pepper

1/2

cup(s)

finely diced celery

1/4

cup(s)

finely diced red onion

1/8

cup(s)

finely chopped pickles, dill or sweet

8

tablespoon(s)

non-fat sour cream
Directions
Place the potatoes in a medium saucepan and cover with cold water. Bring the water to a boil and cook until the potatoes are just tender. Drain. Meanwhile, in a medium bowl, combine the mustard and vinegar along with a pinch of salt and pepper. Whisk in the olive oil. As soon as the potatoes are cool enough to handle, cut them in half and toss them with the mustard mixture. Refrigerate. (This can be done in advance and stored in the refrigerator for up to 3 days.) When ready to serve, stir the celery, red onion, pickles and sour cream into the potato mixture. Adjust the salt and pepper to suit your taste.
Nutrition facts
Kcal: 170.17 kcal
Fibers (g): 2.41g
Sodium (mg): 268.36mg
Carbs: 22.95g
Fat: 8.41g
Saturated fat (g): 2.47g
Proteins: 3.2g