Mexican Breakfast Burritos
Say adios to boring a.m. openers. Instead opt for these mouth-watering Mexican breakfast burritos that are chock full of healthy and hearty ingredients.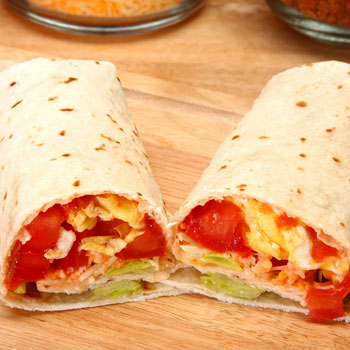 Ingredients
For 4 people
4

low-fat flour tortillas

16

tablespoon(s)

mild or medium salsa

1

cup(s)

liquid egg substitute

1/4

cup(s)

nonfat milk

1/2

cup(s)

shredded reduced-fat Jack cheese

1/2

cup(s)

green peppers

1/4

cup(s)

onions
Directions
Warm tortillas according to directions on package. In a small saucepan, saute onions and peppers until soft. Add salsa on low until heated through. Meanwhile, whisk egg substitute and milk in a small bowl. Cook in a nonstick skillet over medium heat, gently lifting the setting egg substitute mixture to allow the rest of the liquid to cook. When eggs are cooked through, though still moist, remove from heat and divide into four. Spread heated salsa on warmed tortillas, followed by one-fourth of the egg substitute. Sprinkle with cheese, then roll burrito style.
Nutrition facts
Kcal: 206.43 kcal
Fibers (g): 1.72g
Sodium (mg): 664.28mg
Carbs: 25.7g
Fat: 5.54g
Saturated fat (g): 3.28g
Proteins: 13.05g