Pleasant Porridge with Date Puree and Pistachios
What could be better than a delicious bowl of hot porridge on a cold winter morning? Just like Goldilocks, you'll find this porridge is just right!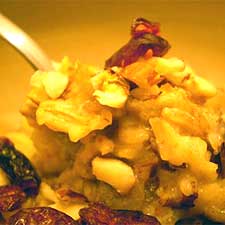 Ingredients
For 4 people
2

cup(s)

fresh dates

2

cup(s)

rolled oats

2

cup(s)

low fat milk

1/10

teaspoon(s)

salt

1/2

cup(s)

shelled, unsalted pistachio nuts, roughly chopped
Directions
First make the date puree. Halve dates and remove stones and stems. Cover dates with boiling water and leave to soak for about 30 minutes, until softened. Strain, reserving 6 Tbsp. of soaking water. Remove skins from dates and place them in a food processor with the reserved soaking water. Process to a smooth puree. Place the oats in a saucepan with milk, 1 1/4 cups water and salt. Bring to a boil, then reduce heat and simmer for 4-5 minutes until cooked and creamy, stirring frequently. Serve the porridge in warm serving bowls, topped with a spoonful of date puree and sprinkled with chopped pistachio nuts.
Nutrition facts
Kcal: 508.37 kcal
Fibers (g): 11.51g
Sodium (mg): 112.96mg
Carbs: 94.32g
Fat: 11g
Saturated fat (g): 2.19g
Proteins: 15.4g