Supreme Caesar Salad
Hail Caesar... as in this scrumptious Caesar salad. Lettuce rejoice the fabulous flavor and enjoy this dish as a side or a main course. We promise it will put those tiresome salads to shame.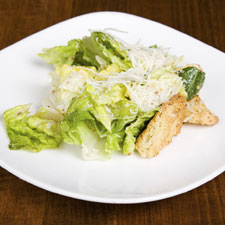 Ingredients
For 8 people
6

cloves garlic, peeled

3/4

cup(s)

mayonnaise

5

anchovy fillets, minced

6

grated Parmesan cheese, divided

1

teaspoon(s)

Worcestershire sauce

1

teaspoon(s)

Dijon mustard

1

tablespoon(s)

lemon juice

1/8

teaspoon(s)

salt, to taste

1/8

teaspoon(s)

Ground black pepper to taste

1/4

cup(s)

olive oil

4

cup(s)

day-old bread, cubed

1

head romaine lettuce, torn into bite-size pieces

16

ounce(s)

Cooked chicken, if desired
Directions
Mince 3 cloves of garlic, and combine in a small bowl with mayonnaise, anchovies, 2 tbsp. of the Parmesan cheese, Worcestershire sauce, mustard, and lemon juice. Season to taste with salt and black pepper. Refrigerate until ready to use.
Heat oil in a large skillet over medium heat. Cut the remaining 3 cloves of garlic into quarters, and add to hot oil. Cook and stir until brown, and then remove garlic from pan. Add bread cubes to the hot oil. Cook, turning frequently, until lightly browned. Remove bread cubes from oil, and season with salt and pepper.
Place lettuce in a large bowl and toss with dressing, remaining Parmesan cheese, and seasoned bread cubes.
PREP TIME 20 Min
COOK TIME 15 Min
READY IN 35 Min
Nutrition facts
Kcal: 379.68 kcal
Fibers (g): 2.21g
Sodium (mg): 538.28mg
Carbs: 12.9g
Fat: 28.01g
Saturated fat (g): 5.1g
Proteins: 18.76g