Wild Rice and Mushroom Soup
Your guests will be wild about this rice and mushroom soup that is simple to prepare and puts canned soups to shame. Be sure to leave plenty of shroom for seconds.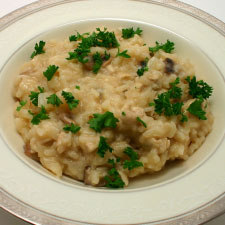 Ingredients
For 1 people
15

cup(s)

vegetable or chicken stock

2 1/2

cup(s)

onion, fine chop

1 2/3

cup(s)

celery, chopped

1 2/3

cup(s)

green bell pepper, diced

5

tablespoon(s)

parsley, chopped

5

ounce(s)

wild rice, washed and drained

20

ounce(s)

button mushrooms, sliced

10

ounce(s)

red wine

1

salt and pepper

1

ham, bacon or chicken, chopped (optional)
Directions
Put the stock into a soup pot. Sauté onions, celery and peppers; add to stock with parsley. Bring to a boil, cover and simmer 15 minutes. Add the wild rice and continue to simmer 40 minutes. Sauté mushrooms; add mushrooms and wine to soup. Season to taste. Cover and simmer 15 minutes. Serve hot.
Nutrition facts
Kcal: 2448.04 kcal
Fibers (g): 25.04g
Sodium (mg): 7640.24mg
Carbs: 321.06g
Fat: 45.08g
Saturated fat (g): 12.15g
Proteins: 133.49g