Best Oatmeal With Apricots & Walnuts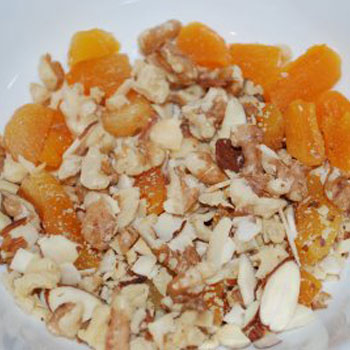 Those who can do... and those who can't miss out on the best oatmeal in town. Now that you have the keys to the oatmeal kingdom, you'll wonder why you bypassed oatmeal all of those years.
At a glance
Main Ingredient:
Cooking Method:
Difficulty:
Course/Dish:
Makes:
4 bowls
Ingredients
1/4 cup walnut halves
1 1/4 cups oats, steel cut
5 cups water
1 cup dried apricots, chopped
1 pinch ground cinnamon
1/2 tsp. coarse salt
2 tsp. flax seeds, freshly ground
4 tsp. honey
Methods/steps
Preheat oven to 350 degrees.
Spread walnuts and oats on 2-rimmed baking sheets.
Bake until walnuts are toasted and oats are golden brown (about 10 minutes for walnuts and 12 minutes for oats).
Bring water to a boil in a saucepan over medium heat.
Stir in oats, apricots, cinnamon, and salt.
Return to a boil.
Reduce heat, partially cover, and simmer, stirring occasionally, until oats are tender and thickened, about 25 minutes.
Chop nuts. Spoon oatmeal into 4 bowls, and sprinkle each serving with walnuts, flaxseed, and drizzle with honey.
Serve immediately.
Additional Tips
Ready in 1¼ hour
---
---