Chicken with Prosciutto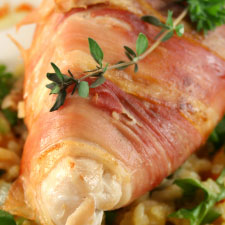 If you have a favorite Chicken Cordon Bleu recipe, try this fresh gourmet version. You'll have a new favorite recipe that won't ruffle your feathers. Bird is definitely the word with this dish.
At a glance
Cuisine:
Main Ingredient:
Cooking Method:
Difficulty:
Course/Dish:
Occasions:
Serves:
2
Ingredients
4 Tbsp. extra virgin olive oil, divided
1 oz. diced prosciutto
2 cups fresh spinach
1/2 cup chopped scallions, divided
1 slice fresh mozzarella
2 4-oz. chicken breasts, pounded thin
3 pats butter
Generous additions of fresh oregano, thyme and sage
2 oz. white wine
1/4 cup marinara
1 cup sliced exotic mushrooms
Chicken stock, as needed
Methods/steps
1. Heat 2 Tbls. olive oil in sauté pan; sauté prosciutto until brown. Add spinach and 1/4 cup scallions; sauté until spinach is wilted.
2. Lay one chicken breast on flat work surface; top with spinach mixture, then with mozzarella. Lay other chicken breast on top and dust with flour.
3. Sauté in remaining 2 Tbls. olive oil until slightly browned.
4. Drain oil; add butter, herbs, wine, marinara, scallions and mushrooms. Sauté until chicken is cooked through; add chicken stock as needed for desired sauce consistency.
Additional Tips
To make this for a dinner party, par-cook the chicken until browned and place in large baking dish with a larger quantity of the sautéed mushroom/marinara mixture. Bake at 350 degrees until done.
---
---