Crab Shumai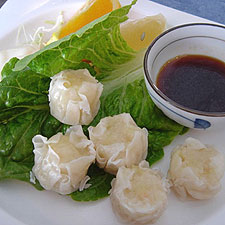 In need of a quick appetizer for your guests? Get crabby, as in crab shumai. This crowd pleaser will wow everybody who eats it.
Ingredients
For mustard soy dipping sauce:
4 tbsp. soy sauce
4 tbsp. sake
1/2 tbsp. Chinese hot mustard
For crab mixture:
2 1/2 lb. crab meat
1 egg
1 tbsp. minced ginger
1 tsp. sesame oil
1/2 cup chopped scallions
Salt and white pepper
For shumai:
2 cups crab mixture
1 egg
2 oz. chopped, frozen butter
1 pkg. shumai (dumpling) wrappers
Mustard soy dipping sauce
Methods/steps
Blend all ingredients for mustard soy dipping sauce and set aside. In a food processor, add crab, egg, ginger and sesame oil. Pulse only a little bit to bring ingredients together. Transfer to a large bowl and fold in scallions. Season with salt and pepper. In a food processor, add 2 cups crab mixture, egg and butter. Pulse until the butter is incorporated but still visible (small pieces). Place 1 Tbsp. of mixture on a wrapper and bring up the sides going around the mound. Continue with the remaining mixture and wrappers. Drop, open side up, from 8 inches on a flat surface to level out the shumai bottoms. Steam shumai for 6-7 minutes and serve with dipping sauce.
---
---