Hawaiian Grilled Chicken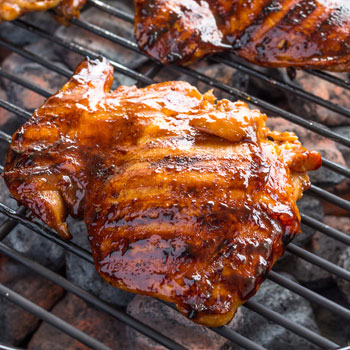 Sometimes simple is simply perfect. This juicy, savory marinade makes the meal and spices up plain old grilled chicken for a real taste treat that everyone will enjoy.
At a glance
Main Ingredient:
Cooking Method:
Difficulty:
Course/Dish:
Cooking Lite:
Healthy Eating:
Occasions:
Serves:
4
Ingredients
1/2 cup olive oil
1/3 cup freshly squeezed lemon juice
1/2 cup low-sodium soy sauce
3-4 cloves garlic, peeled and minced
1-2 teaspoons fresh oregano
1-2 teaspoons fresh rosemary
1-2 teaspoons fresh basil (optional)
1 teaspoon salt
1/4 teaspoon black or lemon pepper
4 boneless, skinless chicken breasts
olive oil spray (for use during cooking)
Methods/steps
Wash chicken and place in a large Ziploc bag. Squeeze lemon juice; add zest (the yellow portion of the peel) for extra flavor. Combine remaining ingredients with the lemon juice and place in bag. Refrigerate for several hours (up to 6 hours), turning occasionally. Place chicken on broiler rack, skin side down or on grill; keep chicken about 7 inches away from heat. If grilling, set chicken on opposite side of the coals to avoid flare-ups. At start of cooking, brush chicken with marinade, then discard marinade. Note: For extra flavor, sprinkle chicken liberally with salt, pepper, garlic and onion powder just before cooking. Substitute lemon pepper for the black pepper, if available, for an extra zesty kick. Broil or grill chicken for 20 minutes or until browned on one side, avoiding flare-ups. At this point, spray the chicken lightly with olive oil spray; then turn it to the other side and spray again. Cook for another 10 minutes or so until chicken is done (juice no longer runs pink). Variation: Wine vinegar may be substituted for the lemon juice. If fresh herbs are not available, substitute 1/2-3/4 teaspoon dried. Serve garnished with sprigs of rosemary and a lemon wedge.
---
---