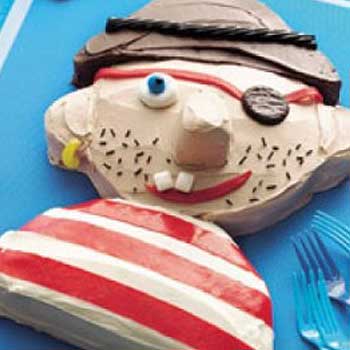 Jolly Roger Cake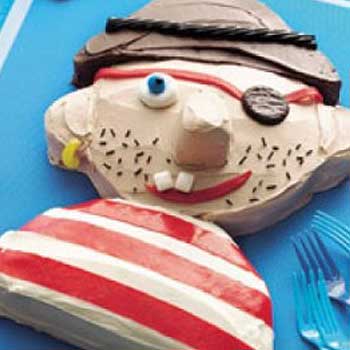 By Jolly, your kids will love this clever cake. If you want to get creative with dessert, this is one great way to do so. Make baking and decorating this cake a family affair. No matter how you slice it, it's sure to be a hit with your kids.
At a glance
Main Ingredient:
Cooking Method:
Difficulty:
Course/Dish:
Healthy Eating:
Ingredients
1 box cake mix
Water
oil
eggs
Tray 15 x 12 inches, covered
2/3 cup dark chocolate frosting
1 cup creamy vanilla frosting
1 chocolate-covered mint patty
1 gumball
1 slice marshmallow
1 yellow ring-shaped hard candy
1 roll Fruit by the Foot strawberry
1 black licorice rope
Square-shaped candy-coated gum
Chocolate decors
Methods/steps
Heat oven to 350 degrees. Grease bottoms and sides of 1 (8-inch) and 1 (9-inch) round cake pan with shortening or cooking spray. Make cake as directed on box, using water, oil and eggs. Pour into pans. Bake as directed on box. Cool 10 minutes; remove from pans to cooling rack. Cool completely, about 1 hour.
Use serrated knife to cut 9-inch cake in half and cut hat as shown in diagram. Remaining half of 9-inch cake will form body of pirate. Cut 8-inch cake as directed in diagram. On tray, place cake pieces. Cut ears and nose from small pieces of cake; attach to cake with small amount of frosting. Cover; freeze 1 hour or until firm.
Reserve 3 tsp. dark chocolate frosting; frost hat with remaining dark chocolate frosting. Mix vanilla frosting with reserved chocolate frosting. Frost head, ears, nose and body of pirate with tinted vanilla frosting. Add mint patty for eye patch, marshmallow slice and gumball for eye, and ring-shaped candy for earring. Cut fruit snack into shapes for stripes and mouth; place on cake. Cut licorice to fit hat. Add gum for teeth and chocolate decors for whiskers. Store loosely covered at room temperature.
---
---