Pork Tenderloin with Gorgonzola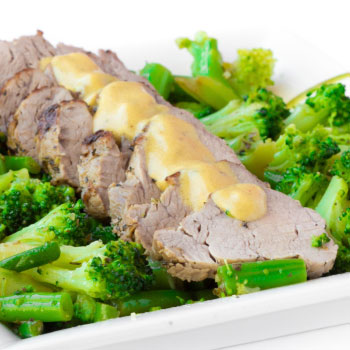 With a tang of mustard and the richness of gorgonzola, your pork tenderloin just got kicked up another notch. One bite of this delicious dish, and you'll forget all about that other white meat.
At a glance
Cuisine:
Main Ingredient:
Cooking Method:
Difficulty:
Course/Dish:
Occasions:
Ingredients
1/2 tsp. whole grain mustard
1 tbsp. Italian dressing
1 6-oz. portion pork tenderloin
2 tbsp. olive oil
2 oz. fresh Gorgonzola cheese
1/4 cup heavy cream, divided
1/4 cup white sauce
Methods/steps
Preparation:
1)-Mix mustards and Italian dressing. Marinate pork tenderloin in the mixture for 24 hours.
2)-Heat olive oil and sear tenderloin over high heat, 7 minutes on each side. Cut into 5 to 7 individual medallions.
3)-For sauce, combine half the heavy cream and béchamel and reduce by 1/4 over medium heat. Stir until combined, about 4-5 minutes. Add the rest of the cream and continue stirring another 4-5 minutes, until desired consistency. Top with fresh Gorgonzola crumbles.
4)-Fan pork medallions on plate. Ladle sauce over meat. Serve with starch and vegetable of choice.
---
---