Scallion Pancakes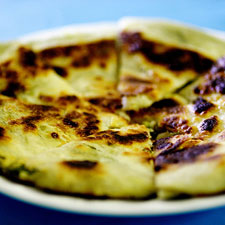 An innovative twist on a breakfast classic, this salty yet scintillating pancake makes for a tasty brunch offering.
At a glance
Cuisine:
Cooking Method:
Course/Dish:
Occasions:
Serves:
6
Ingredients
2/3 cup of flour
1/4 cup warm water
3-4 minced scallions
1/4 tsp. onion powder
Sesame oil
Salt
Methods/steps
Combine flour, water, and onion powder to make dough, and knead for 5 minutes or until smooth.
Cover dough with an inverted bowl or damp towel and allow resting for 45 min to an hour. Divide into 6 pieces and roll each into a 4 in. ball.
Spread each with a thin coating of oil and sprinkle with the minced scallions and salt. Flatten and roll up jellyroll style. Stretch and pull lightly on both ends to form ropes. Coil ropes around rolls and tuck ends under. Place in oil for 20 minutes.
Drain on paper toweling. Roll into flattened pancakes. Sauté in a skillet, browning slowly on both sides, adding oil as needed. Cut into wedges to serve
---
---