Shrimp & Cantaloupe Salad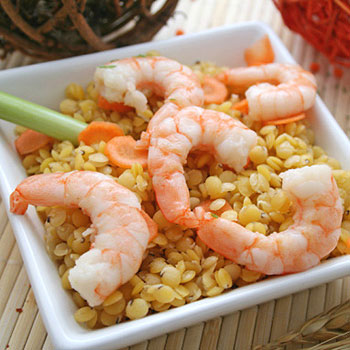 Orzo pasta lends itself to amazing salad dishes especially enjoyable in hot summer evenings. So yes you can-taloupe with this dynamic shrimp and orzo pasta that's ideal any time of the year.
At a glance
Cuisine:
Main Ingredient:
Cooking Method:
Difficulty:
Course/Dish:
Makes:
2 servings
Ingredients
1 cantaloupe 1/2 tsp. salt, divided 1/2 tsp. pepper, fresh ground, divided 1/2 lb. baby shrimp, cooked 2 medium fresh tomatoes, seeded and chopped 1/2 bell pepper, any color, chopped 2 tbsp. capers, in vinegar, drained 1/2 cup orzo pasta, cooked 4 tbsp. extra virgin olive oil 1 lemon, zest of 1 lemon, juice of 1/4 cup fresh oregano, leaves only (1/2 tsp. dried oregano if fresh not available) 1/4 cup pistachios, shelled, lightly toasted and rough chopped
Methods/steps
Cut cantaloupe in half, remove seeds and discard. With a melon baler, make small balls or curls, place in a bowl, and leave 1/4 to 1/2 inch wall being careful not to break through the skin. Sprinkle a little of the salt and pepper inside each cantaloupe half, turn upside down on a paper towel to drain. To the bowl of melon balls add tomatoes, bell pepper, capers, shrimp and orzo, add half of the remaining salt and pepper. Carefully stir to mix. Chill for 30 minutes or until ready to serve. In a separate bowl, whisk together olive oil, lemon zest and lemon juice. Add oregano leaves to oil mixture and gently stir to coat. Leave at room temperature until ready to fill melon halves. Pour olive oil mixture over melon ball mixture and gently stir to coat. Cut a very thin slice off the bottom of each cantaloupe half, to steady them, place each on a salad plate. Sprinkle salt and pepper over the inside of the cantaloupe halves, fill with the melon ball mixture and again sprinkle salt and pepper over all. Top with pistachios.
Additional Tips
Ready in 40 min
---
---