Shrimp Pad Thai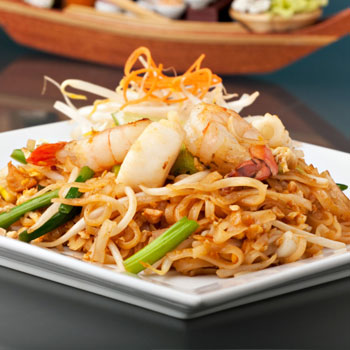 If at first you don't succeed at making a great dinner, thai and thai again. This exotic dish hardly skimps on the flavor. Enjoy international cuisine prepared in the comfort of your own kitchen. It's shrimply delicious.
At a glance
Cuisine:
Main Ingredient:
Cooking Method:
Difficulty:
Course/Dish:
Makes:
4 servings
Ingredients
1/2 cup palm sugar, or 1/2 cup plus 2 tbsp. light brown sugar
3 tbsp. limejuice
3 tbsp. tamarind paste
1 tsp. salt
1/2 tsp. paprika
3 tbsp. Asian fish sauce
1 tbsp. rice vinegar
1 tbsp. water
1 tbsp. sugar
1 tbsp. minced cilantro leaves
2 tsp. minced garlic
2 tsp. minced Thai green chilies or small fresh green Mexican chilies
8 oz. dried rice noodles, linguine-sized
1 quart cold water
Vegetable oil or peanut oil for deep-frying
2 oz. firm tofu, well drained, cut into 1/2-inch cubes
1 tbsp. unsalted butter
1 egg, beaten with 1 tsp. milk
2 tbsp. peanut oil
1 tsp. minced green chilies
1 tsp. chopped shallots
1 tsp. minced ginger
1/2 tsp. minced lemongrass
1 kaffir lime leaf, or 2-by-1/2-inch strip lime zest
1 tbsp. chopped cilantro leaves, plus sprigs for garnish
1 lb. fresh shrimp, deveined
1/2 cup bean sprouts
1/4 cup thinly sliced green onion, for garnish
2 tbsp. chopped dry-roasted peanuts
2 lime wedges, for garnish
Methods/steps
Make the Lime-Tamarind Sauce: In a small saucepan, combine the sugar, lime juice, tamarind paste, salt and paprika. Over medium-high heat, bring to a boil, stirring frequently. Continue boiling and stirring just until the sauce reduces slightly. Set aside to cool. Reserve. Make the Garlic-Chili Sauce: In a small, non-reactive bowl, stir together the fish sauce, rice vinegar, water, sugar, cilantro, garlic and chilies. Reserve. For the noodles, put the rice noodles in a bowl filled with the cold water and leave them just until softened, no more than a few minutes. Drain and reserve. (This can be done several hours ahead.) About 30 minutes before serving, heat about 1 inch of the vegetable oil in a medium saucepan or wok over medium-high heat. Add the tofu cubes and deep-fry until golden, 1 to 2 minutes. Remove with a slotted spoon or wire skimmer, drain on paper towels, and set aside to cool. Reserve. In a small skillet, heat the butter over medium heat. Cook the scrambled egg until it forms soft, moist curds. Transfer to a plate and set aside to cool. Chop coarsely and reserve. Heat a wok over high heat. Add the 2 tbsp. peanut oil. When it's almost smoking-hot, add the chilies, shallots, ginger, lemongrass, kaffir lime, chopped cilantro and shrimp; stir-fry until the shrimp gain pink color, about 2 minutes. Add the noodles, half of the bean sprouts, the fried tofu, the scrambled egg, and both sauces. Continue stir-frying until the noodles have separated, heated through, and are glazed with the sauce and mixed with the other ingredients, 1 to 2 minutes more. Transfer the noodles to a serving plate. Top with the remaining bean sprouts, cilantro sprigs, green onions and peanuts. Serve with lime wedges to squeeze over the noodles.
---
---