Spanakoryzo (Rice with Spinach)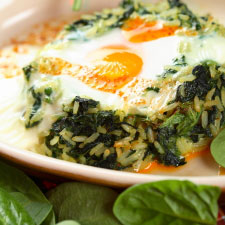 Did you know that Alexander the Great brought rice to Europe from India? Combine Alexander's discovery with Popeye's wisdom and we get this tasty traditional Greek dish.
At a glance
Cuisine:
Main Ingredient:
Cooking Method:
Difficulty:
Cooking Lite:
Healthy Eating:
Serves:
3-4
Ingredients
1 medium onion, chopped
1 cup olive oil
3 lbs. spinach, well washed and cut into large pieces
1 tbsp. tomato puree
4 cloves garlic, sliced
2 or 3 scallions
3 tbsp. parsley
Few dashes of sea salt
Few dashes of freshly ground black pepper
1 cup brown rice
Methods/steps
Place onion and oil in large sauce pan and simmer. When onion is golden brown, add spinach. Continue stirring until all the spinach is lightly cooked. Combine tomato puree with 2 cups warm water, garlic, scallions, parsley, salt and pepper. Add this to the spinach and onion mixture and simmer for approximately 45 minutes, stirring occasionally. While spinach mixture is simmer, precook the rice. Add rice to spinach mixture and continue to cook until all water is evaporated.
Additional Tips
Especially delicious when served with plain goat's milk.
---
---