Spicy Scallops with Black Bean Sauce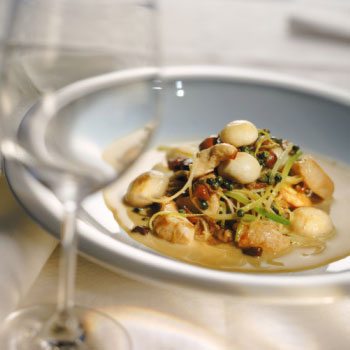 Bean there, done that? We doubt it unless you've feasted on this spicy scallops dinner. Chock full of flavorable ingredients, it's a no brainer.
Ingredients
4 large sea scallops
1 clove garlic, minced
1/4 cup cooked black beans
1 pinch ginger powder
1 tsp. soy sauce
1 Tbsp. water or chicken stock
2 Tbsp. minced bell pepper
1/2 tsp. sugar, or to taste
1/8 tsp. white pepper, or to taste
2 Tbsp. chopped onion
6 slices water chestnut
1 green onion, chopped
3 oz. other chopped vegetables of choice
Cornstarch or flour, as needed
Methods/steps
Steam scallops until done, about 6 to 8 minutes. In wok or frying pan, sear garlic, black beans and ginger for 30 seconds. Add soy sauce, water or stock, bell pepper, sugar, white pepper, onion, water chestnuts, green onion and other vegetables; bring to boil. You can add chili for a spicier taste; be sure to taste before thickening and adjust as needed. Thicken with cornstarch or flour. Plate scallops and pour sauce over them.
---
---