Tomato Pilaf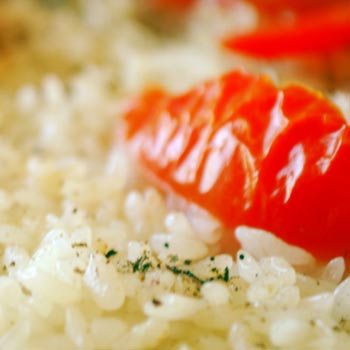 Here comes the grain again. Most people don't realize how very simple it is to spice up a basic side dish. Tomatoes and beef transform this ordinary rice dish into a mouthwatering Middle Eastern-infuced recipe. You'll love every spoonful.

At a glance
Cuisine:
Main Ingredient:
Cooking Method:
Difficulty:
Course/Dish:
Makes:
4 servings
Ingredients
2 medium ripe tomatoes; coarsely chopped 4 tbsp. butter 4 tbsp. butter; melted 1 tsp. salt Black pepper; freshly ground 2 cups beef stock; fresh or canned 1 tsp. tomato paste 1 cup long or medium grain white rice; uncooked
Methods/steps
In a heavy 2-3 quart saucepan, combine the tomatoes, 4 tbsp. of butter, salt and a few grindings of pepper. Stirring and mashing the tomatoes with a spoon, cook over moderate heat for 5 minutes until the mixture is thick and fairly smooth. Add the stock and the tomato paste, bring to a boil and cook briskly for 5 minutes. Puree the mixture through a fine sieve set over a bowl, pressing down hard on the tomatoes with the back of a spoon before discarding the seeds and coarse pulp. Measure the puree and return it to the saucepan. There should be 2 cups If there is more, boil it briskly over high heat until reduced to the required amount; if there is less, add more stock. Bring to a boil over high heat, then pour in the rice. Stir once or twice, reduce the heat to low, cover tightly and simmer for about 20 minutes, or until all the liquid has been absorbed and the rice is tender but still slightly resistant to the bite. Add the 4 tbsp. of melted butter and toss the rice with a fork until the grains glisten. Drape a towel over the rice and let it stand at room temperature for 20 minutes or so before serving.
---
---