Twisted Eggs with Tomatoes & Goat Cheese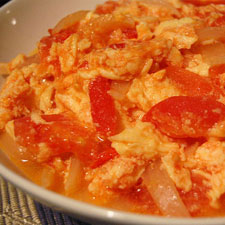 There's no longer a reason to scramble for a great breakfast recipe. These eggs are prepared with tomatoes and goat cheese for an AM experience that's absolutely amazing.
At a glance
Main Ingredient:
Cooking Method:
Difficulty:
Course/Dish:
Makes:
6 servings
Ingredients
Water
6 medium tomatoes, peeled, seeded, diced, and drained
1 tbsp. extra-virgin olive oil
1 garlic clove, minced
1 small yellow onion, finely chopped
12 large eggs, preferably organic
Salt
Freshly ground black pepper
2 tbsp. unsalted butter
3 tbsp. heavy cream
6 oz. fresh creamy goat cheese, crumbled
4 tbsp. finely shredded fresh basil leaves
Methods/steps
Bring a saucepan of water to a boil. Fill a mixing bowl with ice and water and set it on the counter nearby. Meanwhile, with a small, sharp knife, core the tomatoes and, on their undersides, cut a shallow X in their skins. With a wire skimmer or slotted spoon, carefully lower the tomatoes into the boiling water and boil just until their skins begin to wrinkle, about 30 seconds. Immediately remove them with the skimmer or spoon and transfer to the ice water to cool. Peel the skins from the tomatoes, using your fingertips or, if necessary, the knife. Cut the tomatoes horizontally in half and use a finger or the handle of a tsp. to scoop out and discard their watery seeds. Cut the tomatoes into 1/2-inch dice. In a sauté pan, heat the olive oil over medium heat. Add the garlic and onion and sauté until they just start to turn golden, about 3 minutes. Add the diced tomatoes, reduce the heat slightly, and cook, stirring frequently, until they form a thick but still juicy sauce, 7 to 10 minutes. Meanwhile, prepare the scrambled eggs. Break the eggs into a large mixing bowl and season lightly with salt and pepper and whisk until smooth. In a heavy sauté pan over medium-low heat, melt the butter. Add the eggs and cook, stirring constantly with a wooden spoon, until creamy and slightly thickened, 3 to 5 minutes. Stir in the cream and all but about 4 tbsp. of the crumbled goat cheese. Remove the pan from the heat while continuing to stir constantly. The heat in the pan will melt the cheese and continue to cook the eggs, which should be creamy with very soft curds. Season the tomato mixture to taste with salt and pepper and stir in half of the basil. Spoon all but about 4 tbsp. of the tomato mixture onto 6 heated serving plates, spreading it evenly into circles that cover most of the plates. Mound the eggs on top, leaving a rim of tomato around them. Top the eggs with the remaining tomato sauce, sprinkle with the remaining goat cheese and scatter the remaining basil on top. Serve immediately.
---
---