Veal Shanks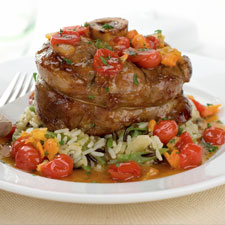 You'll give great thanks for these impressive veal shanks. Sure to melt in your mouth, this great meal is a hit.
Ingredients
4 veal shanks
Salt and freshly ground black pepper
All-purpose flour
4 tbsp. oil
1 onion, sliced
1 lb. canned and peeled tomatoes; save half the juice
Juice and half the grated rind of 1 orange
1 cup red wine
Methods/steps
Dust veal with salt, pepper and flour. Heat the oil in a cast iron casserole. Sear the shanks, two at a time, on both sides. Remove shanks and set aside. In the same cast iron pan, cook onions over high heat until transparent, stirring with a wooden spoon. Add tomatoes and juice; reduce 5 minutes. Add orange juice, rind and wine. Return shanks to pan, keeping the heat high. Season with salt and pepper. Simmer, covered, for 1 to 1 ½ hours or until the meat starts to come away from the bone. Serve with fettuccine or rice.
---
---