Zucchini With Scrambled Eggs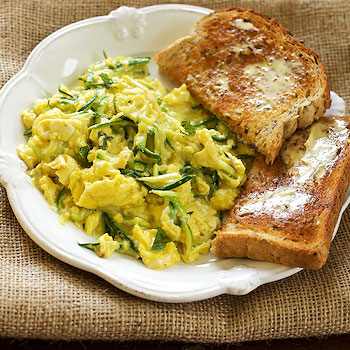 Squash the notion of boring breakfasts. You'll crack up over this awesome omelet that's infused with flavor, courtesy of zucchini, basil and parmesan cheese. You won't have to egg your loved ones on to dive into this delicious a.m. dish.
At a glance
Main Ingredient:
Cooking Method:
Difficulty:
Course/Dish:
Makes:
5 servings
Ingredients
2 cloves garlic Olive oil, for sauté 1 medium zucchini 1/2 bunch basil 8 eggs 2 tbsp. milk Salt and pepper 1/4 cup grated Parmesan
Methods/steps
Preheat the broiler. Start by crushing some garlic and heating it in some olive oil in a medium nonstick sauté pan on the stove. While that is heating up, very thinly slice the zucchini. When the oil and garlic are heated, tear some basil into the pan and add all the sliced zucchini. Cook until the zucchini is tender, but not cooked through, about 2 minutes and season with salt and pepper. Blend eggs in a blender with some milk and salt and pepper. Blend on the highest speed. Pour the egg mixture into sauté pan and let it sit for 1 minute. When there isn't much loose egg left in the pan, grate some Parmesan on top and place pan in the broiler for 1 minute. Take pan out of broiler, let it cool and set in pan for 5 minutes. When cool, invert a plate on top of pan and turn over. Slice and serve.
---
---