Chicken 'n Dumplings
Chicken and dumplings is about as traditional homecooking as it comes. This easy crockpot dish makes an ideal family meal.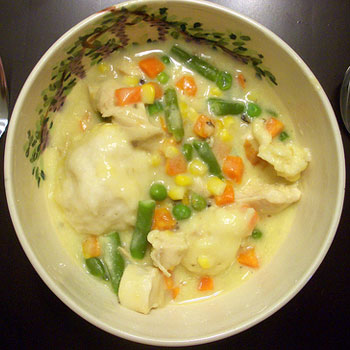 Ingredients
For 8 people
4

skinless, boneless chicken breasts

2

tablespoon(s)

butter

2

(10.75 oz.) cans condensed cream of chicken soup

1

medium onion, diced finely

1

cup(s)

carrots, diced

1

cup(s)

fresh green beans, halfed

1

can of corn, drained

20

ounce(s)

refrigerated biscuit dough, in sections
Directions
Place all ingredients except for the biscuit dough in a slow cooker, and fill with enough water to cover them. Cover, and cook for 5 to 6 hours on High. About 30 minutes before serving, place the sections of biscuit dough in the slow cooker. Cook until the dough is no longer raw in the center.
Your favorite comfort foods are getting a healthy makeover. Click here for these slimming suggestions.

You may also add additional vegetables if you would like to or substitute chicken broth or stock for the water.
Nutrition facts
Kcal: 562.74 kcal
Fibers (g): 3.96g
Sodium (mg): 1406.43mg
Carbs: 53.52g
Fat: 22.26g
Saturated fat (g): 8.42g
Proteins: 37.21g