Grilled New York Strip
New York strip steaks, when cooked properly, need little more than a few elements to heighten their flavor. This version, topped with garlic-infused braised mushrooms, has an earthly, rich flavor that will please the palate.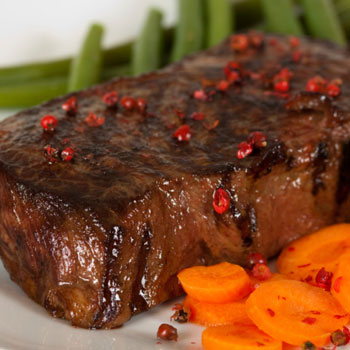 Ingredients
For 2 people
2

New York strip steaks

1

olive oil

1

sea salt

1

freshly cracked black pepper

2

tablespoon(s)

minced roasted garlic

3

tablespoon(s)

butter, divided

1/4

cup(s)

chicken stock

2

portions exotic mushrooms
Directions
Rub steaks with olive oil and coat with sea salt and cracked black pepper. Grill to desired temperature. For mushrooms, whip garlic with 2 tbsp. butter, salt and pepper. Place this mixture in sauté pan with remaining 1 tbsp. butter and chicken stock. Braise the mushrooms in this mixture and serve on top of steaks.
Nutrition facts
Kcal: 1395.86 kcal
Fibers (g): 11.51g
Sodium (mg): 2654.52mg
Carbs: 56.17g
Fat: 94.53g
Saturated fat (g): 37.25g
Proteins: 84.81g