Tropical Tuna
We're singing your tuna with this gourmet tuna dish. A rainbow of fruity seasonal flavors, there's nothing routine about this out-of-this-world culinary experience.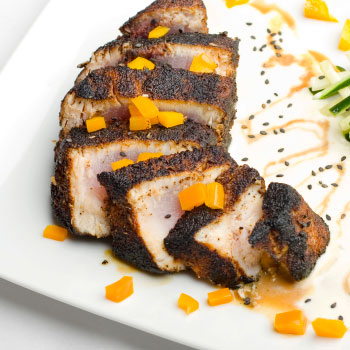 Ingredients
For 4 people
1

small papaya, peeled

1

small mango, peeled

1/2

bunch cilantro

1/2

red bell pepper

2/3

shot peach schnapps

1/2

lemon, juice of

1/8

teaspoon(s)

salt, to taste

1/8

teaspoon(s)

pepper, to taste

2

teaspoon(s)

fresh garlic, minced

32

ounce(s)

ahi tuna

1

tablespoon(s)

olive oil

6

teaspoon(s)

crushed peppercorns
Directions
For the salsa, slice fruit, then julienne into 1/2-inch pieces. Fold in cilantro, bell pepper, schnapps, lemon juice, salt, pepper and garlic. Refrigerate for 1 hour before serving. For the tuna, slice into 8-oz. portions. Rub each tuna medallion with olive oil; dredge in crushed peppercorns. Sear over high heat for one minute on both sides. Place salsa on plate and top with tuna.
Nutrition facts
Kcal: 367.18 kcal
Fibers (g): 4.17g
Sodium (mg): 158.12mg
Carbs: 22.28g
Fat: 5.88g
Saturated fat (g): 0.59g
Proteins: 53.24g